Factors To Know Before Buying A Gaming Chair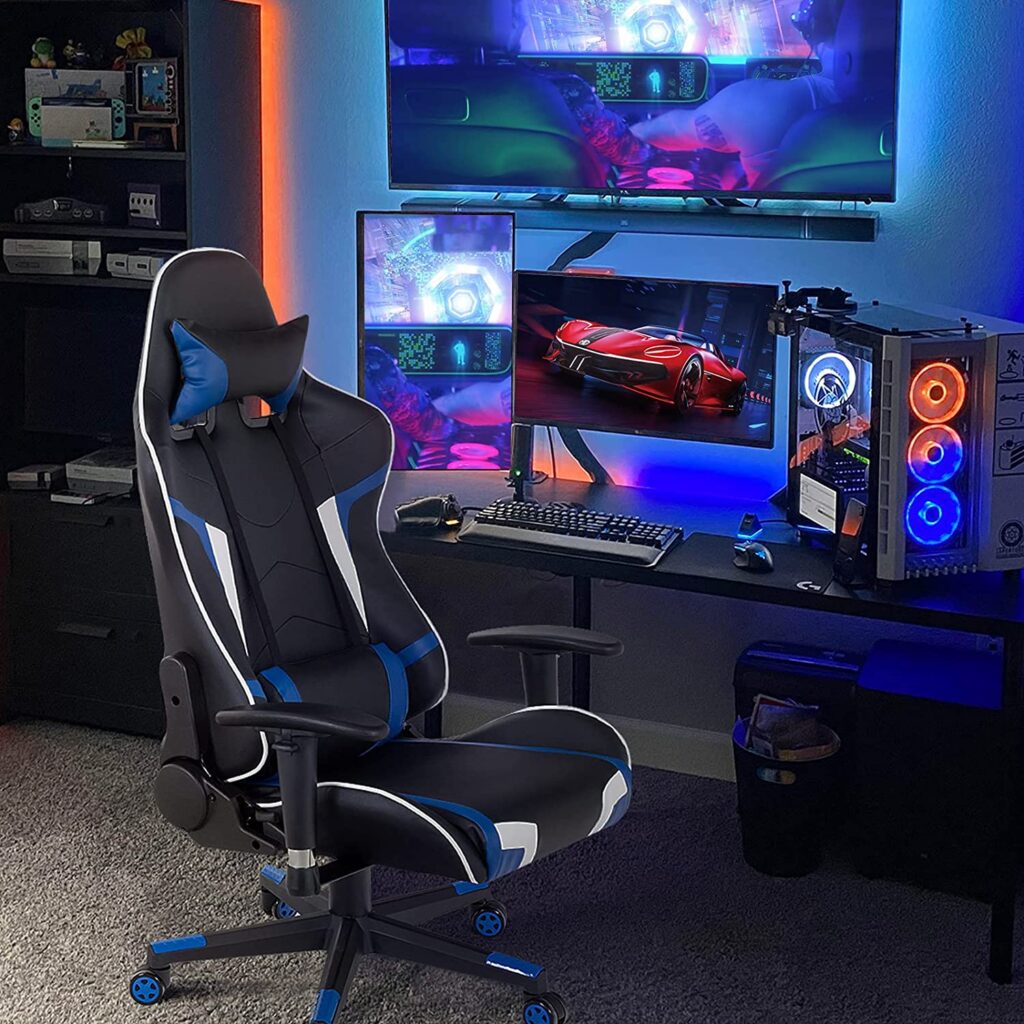 Gaming chairs are specially created with gamer's comfort and demand in mind. These chairs were designed by designers that took into consideration how gamers sit and move, and what they require from a chair before creating one that satisfies their demands. If you are willing to buy gaming chair online then this guide will help you, as buying a gaming chair is a long-term investment and takes a good amount from your salary so you need to filter out the one that fits your requirement list.
Gaming chairs have become a basic need of every gamer and streamer. A good gaming chair is as important as a good gaming device as it affects your gameplay. It gives you comfort while gaming for long hours, and provides you a free movement while playing games.
Modern gaming chairs now even support Bluetooth connection for game sound as it enhances the experience of gameplay
Types Of Gaming Chairs Available In Market
PC Gaming Chairs
The majority of people immediately think up images of PC gaming seats when they hear the term "gaming chair." These chairs are made to sit in front of desks, making them an ideal choice if you like playing PC games or need a chair that can serve as both an office chair and a gaming chair.
They generally consist of a pedestal seat installed on top of a moveable 5-star wheeled base. Additionally, they frequently include high armrests for wrist support when using the mouse and keyboard and a high back to support your neck and reduce strain while staring at your computer. Some chairs also come with a neck & back pillow support too. They also frequently allow you to move around easily.
Console Gaming Chairs
These chairs are designed a little differently as they are specially made for console games like PlayStations, Nintendo, etc., and are often available in a wider range of different sizes and forms. Console gaming chairs feature an L-shaped design which console gamers find more comfortable as it offers a laid-back posture.
Racing Chairs
As by their name, these chairs are specially made for playing racing simulator games. Some of them even come with expandable racing controls attached also, which makes it an easy 2-in-1 investment as they can be used for both racing simulators and PC games also. 
Bean Bag Chairs
These chairs are highly popular with mobile gamers as this kind of chair has the benefit of supporting a wide variety of postures and positions without even doing an adjustment. Many E-Sports LAN tournaments use these chairs as seating for players. 
Things to look out for before buying a gaming chair
As of now, you know about types of gaming chairs and their features, and you can now select a chair according to your requirements whenever you are willing to find gaming chairs for sale offers,
The most important factor to look out for in a gaming chair is its adjustability because gaming needs a lot of movement in the body so you need to seek out a chair that offers different adjustability and can give you the most movement freedom in your gameplay.
The manufacturing quality is the second factor to take into account when purchasing a gaming chair. Your gaming chair will likely survive longer if the build quality is greater. You don't want to spend money on a chair that, after a few weeks of usage, breaks or is uncomfortable. The frame is a useful tool for determining the build quality. Metal, often tough steel, will be used to make frames of the best quality. Frames made of wood or plastic have a lower likelihood of lasting over time.
Gaming chairs are covered with PU leather upholstery seating. While real leather is available, it is quite pricey and will probably strain your budget. I would advise staying with PU leather because it is often sufficient for most people's needs and is definitely the best option financially.
Armrests are vital to PC gamers. To support your lower arms and wrists properly and enable quick reactions, which will eventually improve your gaming skills, you need strong ergonomic wrist support.
While many console gaming seats lack armrests, the majority of PC gaming chairs have. That's alright because arm support is less critical if you're searching for a console gaming chair because you won't be utilizing a keyboard and mouse.
Since most gamers desire a chair in the first place, ergonomics is perhaps the most crucial factor to take into account when purchasing one.  An ergonomic gaming chair is one that supports your motions, reduces back discomfort, and speeds up your reaction times when playing video games. 
Where To Find Good Gaming Chairs In Delhi
There are a lot of showrooms that offer different office furniture and gaming chairs for sale in Delhi for those who like to buy after examining all its features by themselves. The online platform offers a wide range of varieties and offers that you even cannot find at showrooms.